ICM School Supplies Drive
---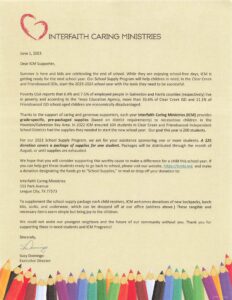 Every August, ICM provides our clients' children with their needed school supplies, free of charge.
According to the Texas Education Agency, more than 15,800 school-aged children our community are economically disadvantaged.

Source: TEA website (Summer 2023)
Because of the support of our community members, ICM is able to provide the children of our clients with grade-specific, pre-packaged supplies based on district requirements.
If you can help get these students ready to go back to school, please visit our online donation form (designating the funds go to "School Supplies") or mail your donation to ICM at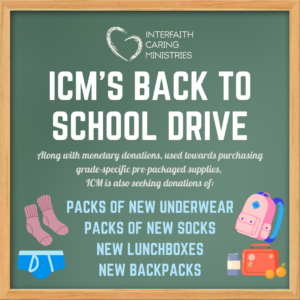 Interfaith Caring Ministries
151 Park Avenue
League City, TX 77573
We are also looking for donations of new backpacks, new lunch kits, packages of new socks, and packages of new underwear, which can be dropped off at our office. We love the opportunity to supplement the school supply donation we provide to each child with these tangible and necessary items.
Donations can be accepted Monday-Thursdays from 8:30 am to 4:30 pm and Fridays from 8:30 am to 1:00 pm.
We could not assist our youngest neighbors and the future of our community without you. Thank you for supporting these in-need students and ICM Programs!