Food Pantry
---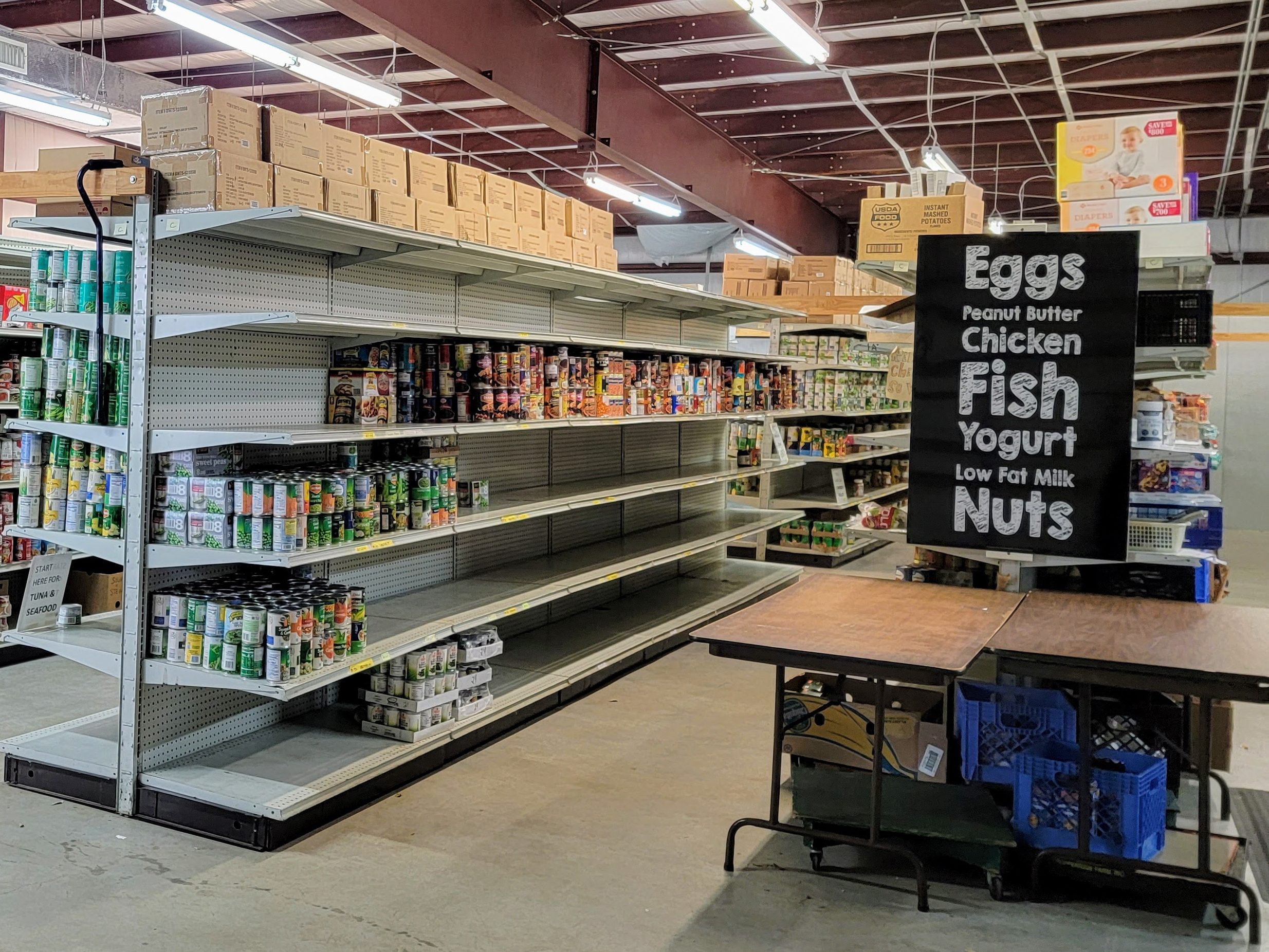 Donate Food
In an effort to prevent hunger in our community, the ICM Food Pantry relies heavily on food donations from churches, schools, individuals, community organizations and businesses to help keep the food pantry adequately stocked.
In addition to food drives by area churches, many community organizations hold an annual food drive which helps the ICM Food Pantry to stay stocked.
Monetary donations to the ICM Food Pantry allows us to purchase items to meet our clients basic dietary and personal needs.
To donate to the ICM Food Pantry please click here.
---
Holiday Needs:
Every year, ICM spreads holiday cheer by providing special Holiday Packs to families in need. These packs include everything required to prepare a festive holiday meal.
We are currently accepting donations to fill these packs with essential items. Your contributions can make a significant difference in brightening the holidays for local families. Help us make this festive season special for everyone. Donations are accepted through Christmas.
Thank you for being a part of spreading joy and warmth this holiday season with ICM.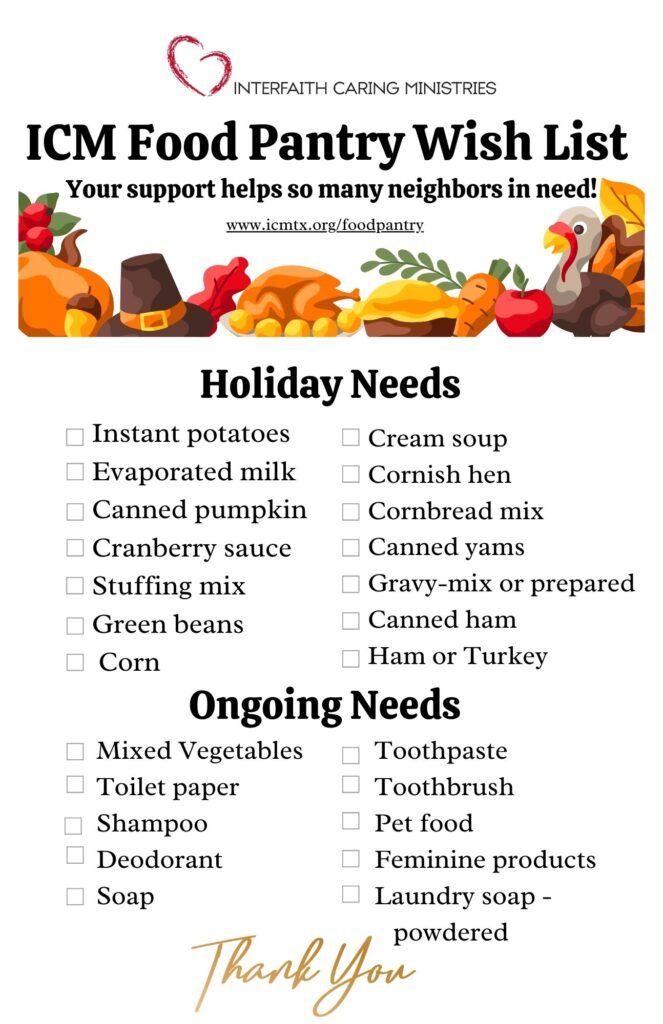 ---
For the ICM Food Pantry Calendar of Needs, please click here.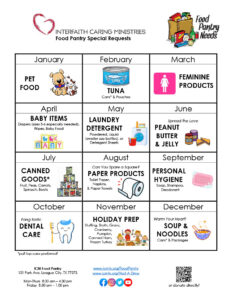 To learn about organizing a food drive click here.
If you have any questions about donating food please email [email protected] or call 281-332-3881.
---
Most Needed Items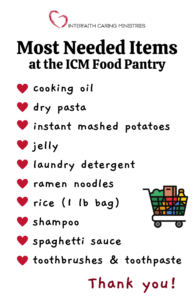 To learn about organizing a food drive click here.
---
Volunteer With Us
If you are interested in volunteering in our Food Pantry, please click here to see our volunteer opportunities.
---
Receive Assistance
If you are in need of assistance and would like to receive food from the ICM Food Pantry, please make a client appointment visit by calling 281-332-3881 or email [email protected].
---
About the Food Pantry
151 Park Avenue
League City, TX 77573
(281) 332-3881
[email protected]
Hours of Operations: Monday through Friday, 8:30 am – 1:00 pm
History
Interfaith Caring Ministries has been a food bank since its inception in 1985. In the past 36 years, the food pantry has grown from a small warehouse, when staff members had to store excess food in their offices, to its current iteration as a full-fledged food bank and the second largest in Galveston County. Since 2009, ICM has operated its food bank in a 6000 square foot building adjacent to its main building. The building stores purchased and donated food, sanitation items, infant products, and other items that cannot be purchased with food stamps. In 2012, the building was expanded to include a walk-in freezer. In 2021, a walk in refrigerator was added.
About
The pantry is impressively laid out, with all food sorted by type and expiration date. Clients receive boxed goods, canned goods, meat, eggs, dairy products, bread and the much needed house sanitation supplies, and hygiene products.
During the holiday season, clients can expect all of the hallmarks of a celebratory feast along with a turkey, ham, chicken, or game hen.
ICM's goal is not to provide clients with large quantities of food, but with large quantities of nutritious food that will keep them healthy and energized at work and school. ICM's average food distribution in 2022 feeds a family of four for a week or more.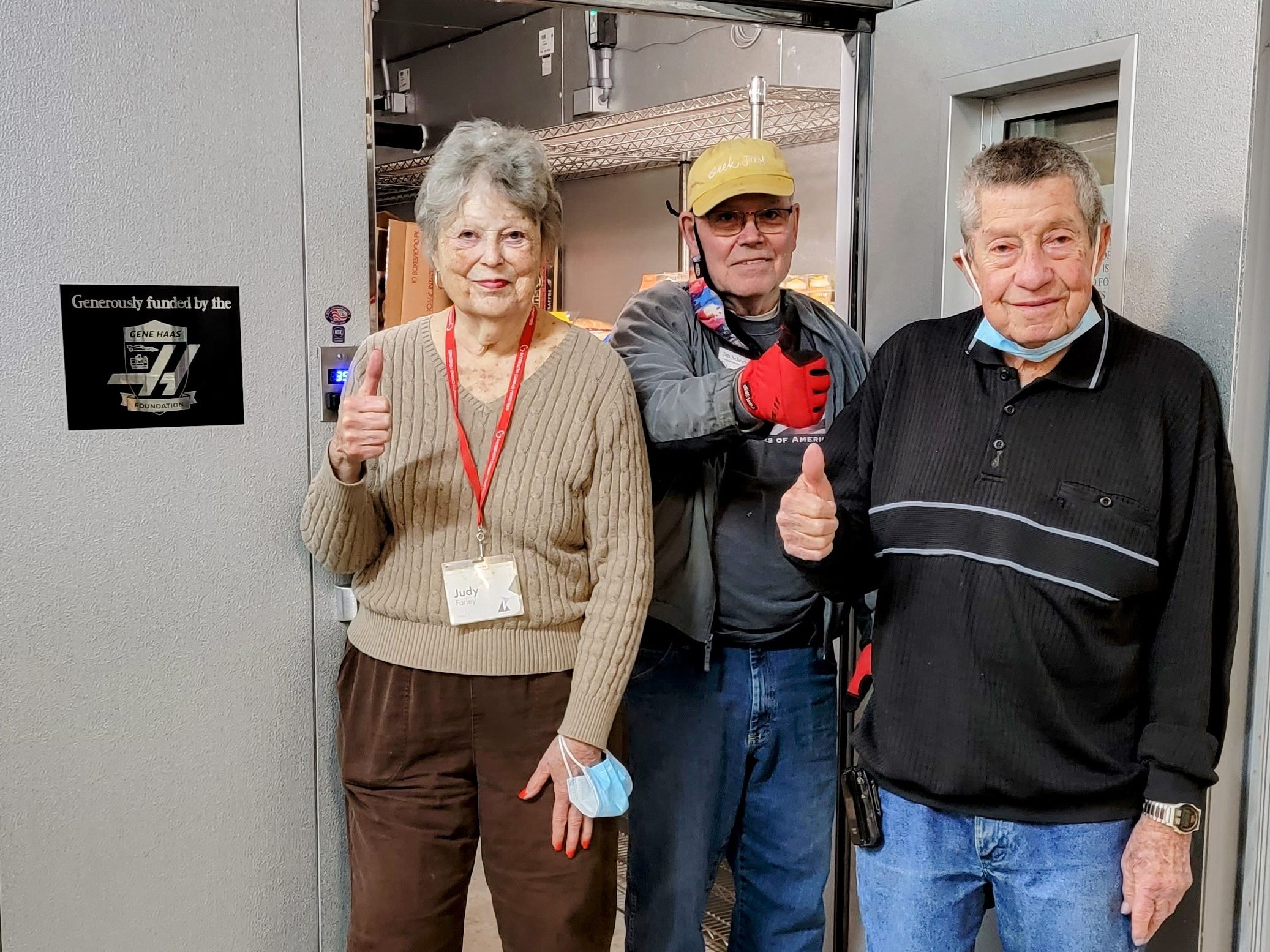 ---
The Need for the ICM Food Pantry
In 2021 Feeding America reported that 15% of individuals in Harris County and 14% in Galveston County face food insecurity.
ICM's service area (Clear Creek ISD and Friendswood ISD) has 7% of households living below poverty level, according to the American Community Survey in 2019.
According to Texas Education Agency 2020-2021 data, a much larger number are classified as "economically disadvantaged."
29% of the 40,500 students in CCISD and 11% of the nearly 6,100 students in FISD, fall into this category of "economically disadvantaged."
With the rising increase cost of food, more of our neighbors are struggling to make ends meet.
Families and individuals in need often must choose between putting food on the table or paying rent, a utility bill, medical bill, or car repair. The effects of food insecurity can lead to physical and mental health complications. Children who are hungry fail to grow and thrive.
ICM strives to provide nutritious food for our clients. In the first six months of 2022, the ICM Food Pantry gave food to more than 2,200 individuals, and we are on track to supply over 2,800 more people with food in the second half of 2022.