Donation Drive Ideas
Not sure what you want to do for your organization's drive for the ICM Food Pantry? Check out some ideas below!
---
Did you know that the ICM Food Pantry has a calendar of monthly requests? Click here to download it!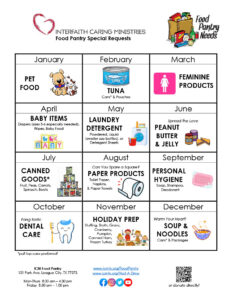 ---
General & Year-Round Ideas
Personal Hygeine Item Drives:

"Can You Spare a Square?" Toilet Paper drive
Personal Hygeine Items
Toothbrush / Toothpaste
Feminine Hygeine Items
Toilet paper & paper towels
Laundry Detergent

Babies & Children:

Diapers (size 4 & size 5), Pull-Ups, Wipes, and/or Formula
New children's underwear, socks, & pajamas

Shelf-Stable Food

Non-perishable Food
"Spread the Love" Peanut Butter
"Rise & Shine" Coffee, Breakfast Foods & Pancake Mixes
Be a "Soup"-er Hero
"Help your fellow dude give some canned food"

Food drive for Homebound Senior Citizens
Pets
Other Cute Ideas:

"Pack the Pantry"
"Share the Love"
"Spread the Love"
"You CAN make a difference"
Can you think of any other cute or cool drive slogan ideas? We'd love to add it to our list to help inspire future drives. Email your slogan idea to [email protected]!
---
Seasons/Holidays
For a great list of worldwide holidays and observance days, check out:
Spring:
Valentine's Day themed drive

"Share the Love"
"Spread the Love" (peanut butter & jelly)
"Get in the Mood to Donate Canned Food"

"Spring Cleaning"

Household cleaning products & paper towels

Cinco De Mayo themed drive

"Lets Taco 'Bout a Good Cause"
Tex-Mex food staples like rice, dried & canned beans, canned tomatoes, canned jalepenos, canned salsa
Summer:
Fall:
Back to School

New socks, underwear, and pajamas for children
Deadline: Donations should be received by mid-August to be most helpful

Halloween

"Fang-tastic" Toothpaste & Toothbrush Drive

Thanksgiving & Holiday Meals

See our holiday food wish list here
We are able to receive donations anytime during the fall months
Winter:
Christmas or Holiday Meals

See our holiday food wish list here

We are able to receive donations anytime during the fall months

Holiday Toys

NEW, unwrapped toys (for ages 0-12 years) and/or gift cards (for older children)
Deadline: due by December 10 for best results
---